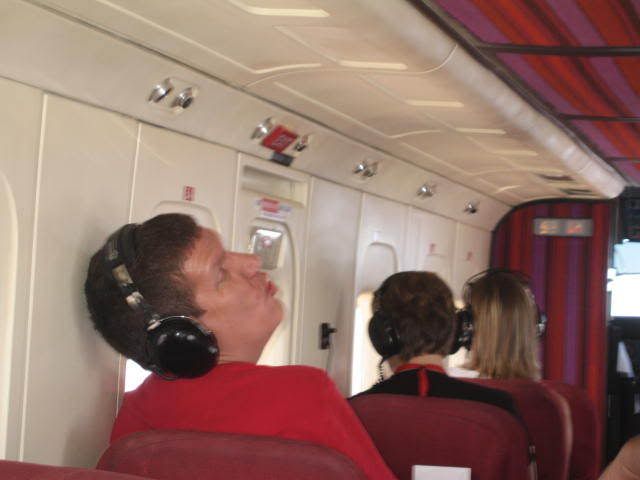 I flew from Chicago to Omaha last week to start my tour with The Headlights and the Pomegranates. The plane was teeny tiny.
I accidentally smacked my viola case in this guys head who had a duffle bag with a bunch of hockey equipment in it. He didn't seem to mind, but he wasn't thrilled. I took my seat and felt relieved to not have to deal with the panicking effects of such close quarters. It was also very hot even though it was one of the coldest days in chicago this season. This man sat down next to me with a shiny PHILLIES jacket. The flight attendant was walking thru the aisle to make sure everyone had their seatbelt on. As she passed our row she whispered
"GO YANKEES"
all jiffy and stuff. just being playful about the world series i suppose
and we were both like
"WHAT? WE DIDN'T HEAR YOU"
"GO YANKEES"
with a creepy staring smile
I looked the other way cuz she clearly wasn't addressing me and the guy next to me turns to me without really acknowledging the flight attendant and says:
"I DON'T WANNA HEAR THAT RIGHT NOW"
super flat faced and uninterested in replying to her comment.
The best part was that we would both discuss every 20 minutes or so about how hot the plane was and then each time he would peel off another layer of PHILLIES clothing exposing a new one with inverse colors at each turn. It was awesome.
I've been having some tooth sensitivity in my upper left quadrant. It's getting to the point where I definitely need to go to an overpriced dentist in Seattle at the moment. Anyways, towards the end of the flight I was so precoccupied with the curiosity of the pain and how much it was going to cost me and if it was a cavity, an abcess or best case scenario, nothing at all. So I blurt out and ask this guy:
"WHAT DOES IT FEEL LIKE WHEN YOU HAVE A CAVITY?"
He had an array of suggestions and was really interested in helping me get to the bottom of what the symptoms could be. I guess he's a super nice guy, but just didn't feel like dealing with the flight attendant lady.
Also, I would like to add that I was watching the office on my new portable dvd player during the flight. He tapped me on the elbow out of no where. I paused the dvd and he goes:
"I WISH I WAS WATCHING TV RIGHT NOW. INSTEAD I GOTTA DEAL WITH ALL THIS PAPER WORK."
as he flipped the pages in his 3 ring binder.
i was like:
"YA"
and pressed play.